Joining in on the "Thankful" fun!
1.
What are you thankful for in your classroom?
I am thankful for so many things! My 25 beautiful students and their families, my large and colorful classroom, student bathrooms in my room, my new K teaching partner (Kate), my new calendar wall, a window to the outside and doors that link into my K teammate's rooms, just to name a few!
2.
What person are you most thankful for?
Again, so many, but right now I am very thankful to my 9 year old daughter, Delaney for being patient with my new blogging obsession and for her inviting me to dance battle her in Dance Central so I can get some excercise!
3.
What 3 blogs are you most thankful for?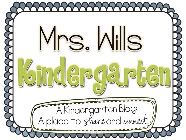 4.
What guilty pleasure are you most thankful for?
Chocolate!!!! Need I say more?
5.
What are you most thankful for?
My God, my family, teaching kindergarten and my health!